The Reserve 'Katy Rybackie'
Created in 1957 with the area of 10.8 hectare is the biggest Polish ornithological reserve of black cormorant and grey heron.
www.parkmierzeja.pl
Narrow-gauge railway
It is one of the oldest narrow-gauge railways in Poland. It connects Sztutowo with Mikoszewo and Nowy Dwor Gdanski.
www.zkd.kom.pl
The horse-riding centre 'Mierzeja'
Sztutowo ul. Zalewowa 14 B
www.jazdakonna.mierzeja.com
tel. +48 603 446 793, +48  601 694 674
The bench of a fisherman
It is a new symbol of Katy Rybackie. A statue of a fisherman holding a fish in his hand is situated in the port of Katy Rybackie by the Vistula Lagoon. It honours the work and endeavours of fishermen who live and work by the Vistula Lagoon.
The drawbridge of 'The Four Armoured' (Czterej Pancerni)
A drawbridge which is also a technical monument where an episode of the famous Polish TV show 'the Four Armoured and a Dog' (Czterej Pancerni i Pies) was shot.
Boat trips on the Vistula Lagoon – 'Krystyna' ship
A 45-minute boat trip can be taken from the port of Kąty Rybackie by the Vistula Lagoon
tel. +48 604 405 350
Timetable:  900R, 1000, 1100, 1200, 1300, 1400, 1500, 1600, 1700, 1800, 1900R
R –  pre-booking cruise.
Ticket prices:
Adults: 20,00 zł
Children: 13,00 zł
The Harbour by the Vistula Lagoon
Kąty Rybackie, ul. Rybacka 185
tel.  +48 /55/ 247 91 19,  +48 796–336–457,  +48 692–731–960
www.nadzalewem.pl
The Museum of the Vistula Lagoon
Kąty Rybackie, ul. Rybacka 64
tel. +48 /55/ 247 87 77
www.cmm.pl
Museum of the Concentration Camp Stutthof
Sztutowo, ul. Muzealna 6
tel. +48 /55/ 247 83 53
www.stutthof.org
Additionally, Sztutowo Municipality is located near other attractive tourist destinations. They are no further than 70 km from Sztutowo.  Below you will find the list of these attractions :
Gdynia Aquarium: this special place is surrounded by the sea on all sides. You will encounter more than a thousand marine and terrestrial animals and other curiosities collected from every region of the world.
Aquapark in Sopot: a wonderful place to relax while swimming.
You can also visit the workplace of famous, Polish astronomer Nicolaus Copernicus- his planetarium is located in Frombork.
Another valuable place to visit is the largest Teutonic castle in Malbork.
Żegluga Gdańska will take you for a long cruises in the Bay of Gdańsk to Kaliningrad.
It is also worth visiting cathedral in Pelplin ( 85km) and Teutonic castle in Gniew ( 90km).
Landscape Park 'Vistula Spit'
It was created in 1985 and covers the area of Spit from Sztutowo to the border with the Russian Federation. Its total area covers 4 410 hectares, out of which 75% is occupied by forests.
The park's attractiveness  is influenced by the occurrence of dune hills with irregular shapes. The highest dune- Camel Back – located  east of Krynica Morska rises to a height of 49 meters. One of the undeniable attractions  is the  active cliff around Piaski Village.
Vistula Spit was formerly covered with deciduous trees (alder, linden, oak, maple). Uncontrolled felling  the trees caused  deforestation  this area.  Such  situation contributed to the movement of sand dunes that migrated toward the Vistula Lagoon and flooded villages. Plants and trees (mostly pines) were planted to prevent dunes. The best host on the sandy ground was pine (mixed with beech, oak, alder and birch) which now reigns on the Spit. There are two nature reserves within the Landscape Park: Kąty Rybackie  and Buki of  the Vistula Spit. Values ​​of this land are known and used for a long time for medical and recreational facilities.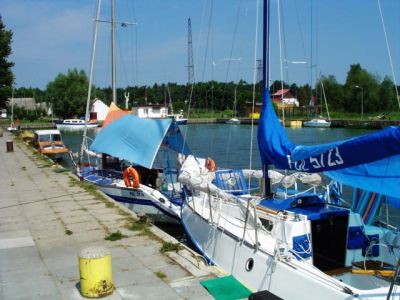 The commune of Sztutowo is surrounded by the waters on each side.  Therefore it was necessary to build many hydraulic structures such as a drawbridge in Sztutowo, pump stations in Kobyla Kępa and  Grochowo, ports in Kąty Rybackie which enable the citizens to move around the area on everyday basis.  Additionally there are interesting attractions for tourists.
One can find discarded pieces of Baltic amber on the beach.  A lot of  amber can be collected  after a strong storm.  The most valuable specimens contain an insect inside. In our municipality there are several workshops on processing amber. Amber is best viewed with a silver frame.
Museum of Stutthof concentration camp
Stutthof concentration camp was  established  on 2nd  of September 1939 and  existed until  9th of May 1945. It was the first place of isolation and extermination set up by German Nazis after the outbreak of the Second World War and the last one which was liberated. During the period of its existence by the " Gate of Death" passed over 110 thousand prisoners and remained there forever about 65 thousand.
Admittance to the museum is free of charge. Fees are charged for guide service and film show.
Museum exhibitions, Visitor Services Bureau and Viewing room are open daily:
9 A.M – 6 P.M. ( from May 1 until September 30)
7 A.M. – 3 P.M. ( from October 1 until April 30)
Reservations, film shows, book store:
Phone: + 48 55 247 8353 extension 216
Mobile: + 48 798 418 024
Email: boz@stutthof.org
The Museum of  Vistula Lagoon
Address: 64 Rybacka Street, 82-110 Kąty Rybackie ( by the port of Vistula Lagoon).
Email: m.zalewu@cmm.pl
Telephone number: 55 247 87 77
The Museum is open from May till September:
From 2nd of May till 30th June: from 8am to 4pm.
1st of July till 31st of August: from 9am to 5 pm.
1st of September to 31st of December – weekdays only from 8am till 4pm.